UNLEASH YOUR BUSINESS GROWTH POTENTIAL
With our proven Digital Ecosystem
✅ Growth focused Digital Marketing Agency. We help businesses with growth by creating custom solutions. 
✅ Start with our FREE Business Growth Training & Consultation (Actual worth $200 / ₹15K)
✅ Get FREE Audit of your current Marketing and Growth Potential
✅ We will share the exact roadmap of How we are going to achieve your desired results in 90 Days.
Digital Growth Marketing Agency 
Invincible Lion is your Digital Growth Marketing Partner Agency. 



We have created go to market strategies for small to medium size Startup Businesses and generated massive results by end to end execution which led to getting more sales, more Brand exposure and better ROI.
3
STEP GROWTH PLAN
Get our 3-Step Growth Formula designed for Businesses looking to grow online exponentially.
5.7x
GROWTH IN SALES
Businesses have experienced 5.7x Growth in their Sales after applying our Digital Ecosystem.
60
MINUTES OF STRATEGY
Invest 60 minutes with our Digital Marketing Consultant and get a Business Growth Roadmap. (absolutely FREE)
100%
WORK TRANSPARENCY
We believe in Growth and we will share every critical detail about your Business and it's growth potential.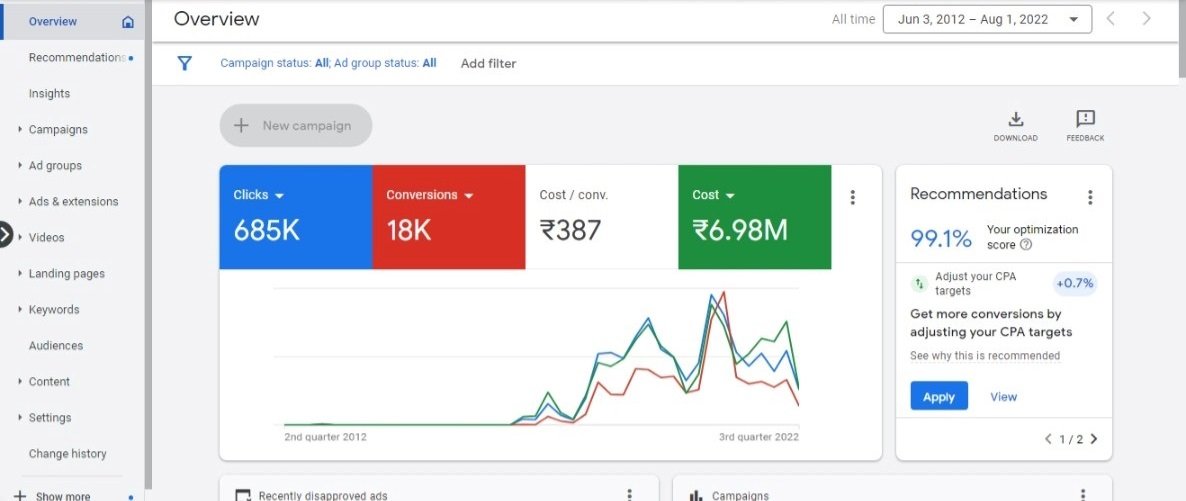 Google Ads Scaling & results
We spent approximately 7 Million rupees while scaling the campaigns for our client while maintaining ROAS and CPL.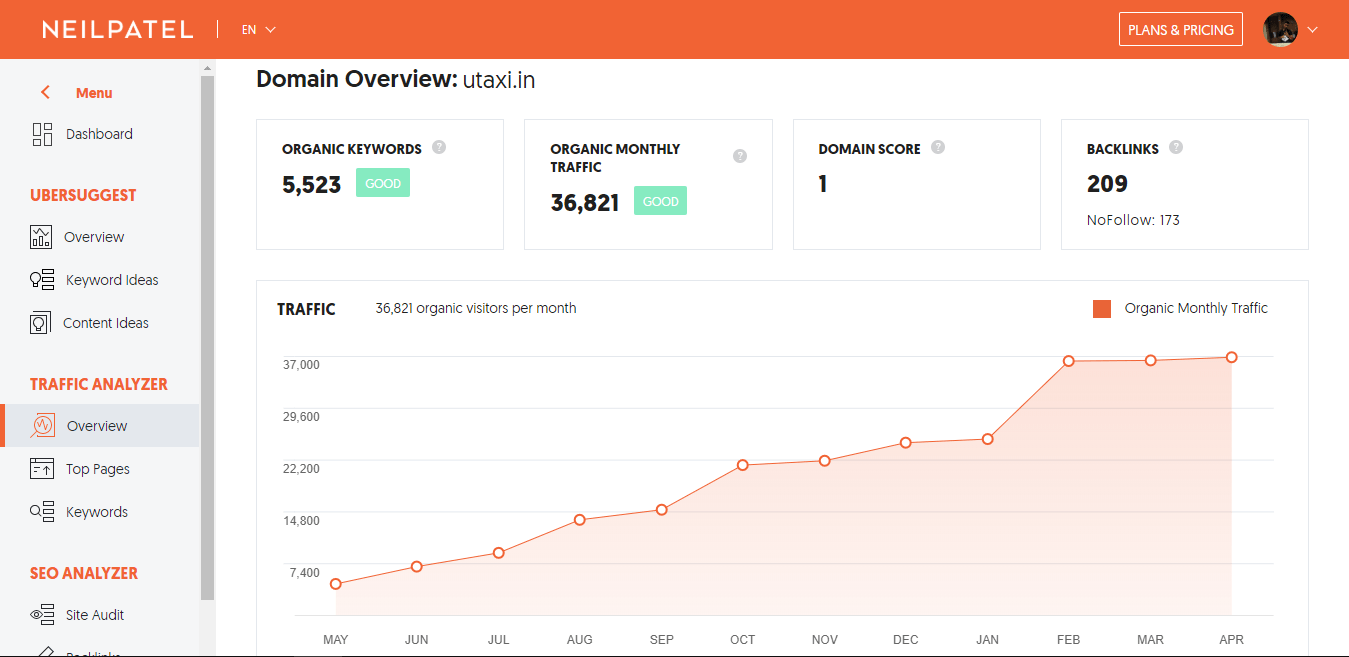 Organic SEO results
We were able to generate massive results for our client by working on full fledged SEO to bring organic traffic which eventually doubled their business in 6 Months.
Conversion Friendly Websites
We build websites for growth. Websites build by our professionals are SEO and paid ads conversion friendly to get you more business.
Facebook Ads Management & Scaling
Helped our client with facebook ads funnels and management while scaling the budget.
Social Media Management & Growth
Managing social media for community & organic brand building with a sustainable social media growth startegy.
SEO - We Love Organic
Search engine optimization is one of the must have digital marketing tactics in your digital marketing strategy. SEO takes time but it sets you apart from your competitor and gets you the potential customers searching your services online.
Performance Marketing - Get More
Getting the customer the organic way is getting more and more difficult and time consuming. But if you have the right strategy you can get your desired customers and from Ad platforms like Facebook, Instagram, Google, YouTube, Quora,  etc.
Social Media - Building a Brand
Social Media is a place that can amplify your authority that can make your campaigns reach more people who are interested in your product and services. Social media is a place to connect with your audience and provide value to build a strong Brand.
Website / App - Revenue Generation Machine
Your website is your digital asset and its the first place where your customers are going to come to buy your product and services. But websites are evolving and you need the rightly optimized website / landing pages to convert your potential customers.
Email / WhatsApp Marketing - Building relationships
Getting your customer in top marketing funnel is one thing and  curating the potential customer and retaining them is another. Your email strategy can do wonders to your business by increasing your conversion rate by building Quality relationships.
Content - Your Brand Language
Content is King and the right strategy to generate the right content creates empire. We can help you with the right content strategy for your social media, website, emails and a lot more. Content can be in form of Images, Videos, Text, Gifs, etc.
Our Awesome Clients and their Testimonials!!
Ajay's Digital Ecosystem helped AttainU get consistent Qualified leads and sales for our coaching program at AttainU.
We were able to reduce the CPL and were able to get better leads to sales ratio. We also had to hire less sales people to convert Qualified leads.
Ajay and team Invincible Lion is working with our B2B SaaS product "Showcase India" from a long time.
Ajay helped us shaped the go-to-market strategy and the "Digital Ecosystem" helped us get consistent leads and high paying clients.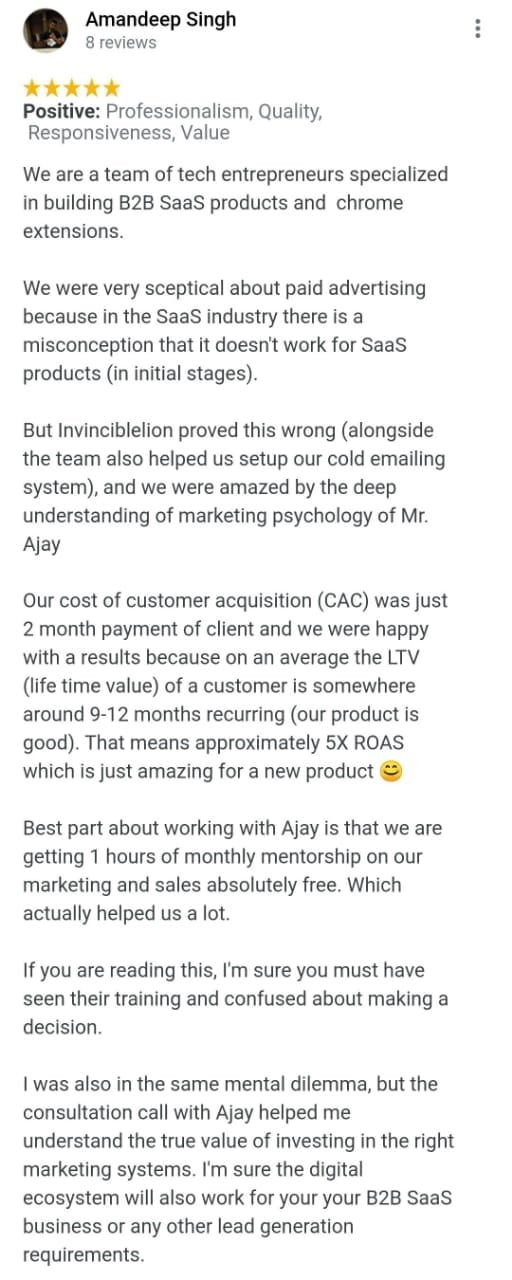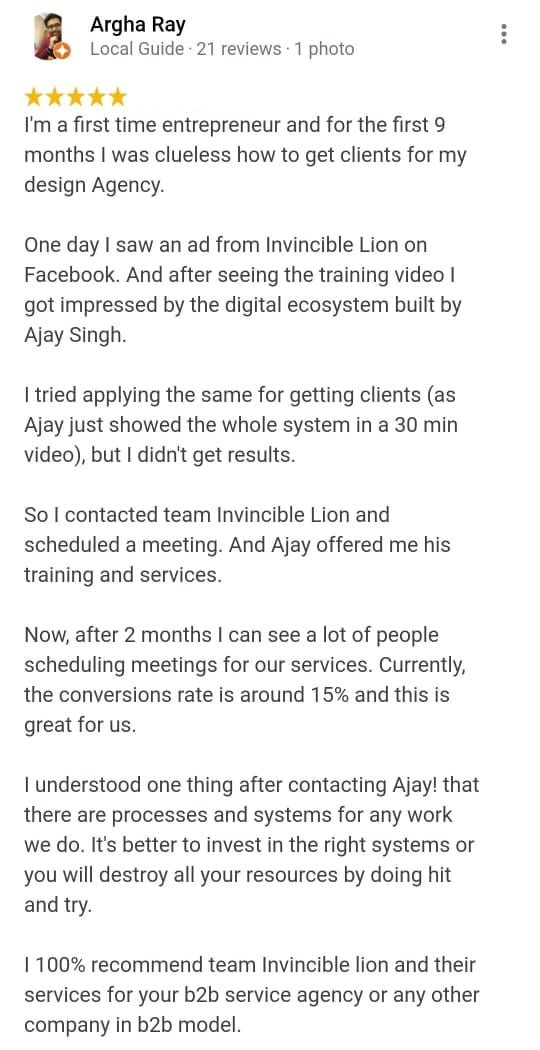 Have a Great Business
Idea?
Lets Grow it Together!!
About Ajay Singh Shekhawat, Founder Invincible Lion:
Digital Marketing Consultant and Startup Growth hacker
Ajay has 7+ Years of extensive experience in Digital Growth Marketing. He has created go to market strategies for small to medium size Startup Businesses and generated massive results by end-to-end execution which led to getting more sales, more Brand exposure and better ROI.

In no way are we associated with Facebook or Google. Once you leave Facebook/Google the responsibility is no longer on any Google or Facebook-owned entity. Your privacy is 100% secure and will NEVER be shared. Results from our consultation and services may vary from case to case and Business to Business depending upon the niche, budget, team, product/service offered, market demand, unique selling proposition, etc.
All of our terms, privacy policies and disclaimers for our services and website can be accessed via the links below. We feel transparency is important and we hold ourselves (and you) to a high standard of integrity.